No Single Use – Reuse
At BaliSpirit Festival we're all for reducing plastic pollution! Practicing a mindful no-waste attitude is really important to us so we can ensure that we not only enjoy Bali, but also take care of it and keep it thriving. That's why, all our wonderful participants, staff and volunteers are encouraged to bring their own personal cutlery and water bottles. With our abundant refill stations we'll all get to stay hydrated through all the yogic fun, international music and dance while keeping our footprint on Bali as clean as possible.
We also know that as travelers, many prefer to pack light! so we have happily partnered with Bali Yoga Shop and Yasminida Bali. All who need can purchase their own reusable items such as stainless steel bottles and bamboo cutlery sets. With every single purchase we're not only preserving our environment but we've turned it into a local activism action. How? A percentage will be donated to Bali ReGreen, our dear reforestation program taking care of Bali's environment, communities and culture.
ECO-TOILETS
We love to contribute to keeping our environment healthy in any way we can! We want to give all who join us during our magical one  week journey the same opportunity, so we cover all aspects possible. That's why, we're stepping up our eco-efforts with compostable toilets. Together with Eco Ranah we're making sure that all the evil chemicals that come with regular toilets don't pollute festival grounds, instead we're going for dry toilets and carbon-rich materials such as sawdust. And it doesn't stop there! Eco Ranah ultimately produces compostable waste to benefit vegetation and improve the health of Bali's sacred soils.
WASTE MANAGEMENT
BaliSpirit Festival is making more efficient efforts in recycling and composting. Therefore, all the waste has to be separated into several categories to make it easier to recycle/compost them. Beyond reducing garbage, we're committed to managing the waste responsibly, so we divide our waste into four categories, to make sure that our impact on the island's nature is as small as possible. Approx. 50 sets of 3 in 1 + 1 bamboo bins will be provided throughout the festival. Each set consists of:
Organic bin for food waste, for example: rice, noodles, meat, skin, bones, dairy products, bread and pastries, sauce, plant-based waste like vegetables, fruits, grains, coffee grounds, tea bags, leaves/green plants, egg shells, nut shells, etc. This type of waste is incredibly useful! Thanks to our waste management partners it will be composted into organic fertilizer to give back to the earth through gardening, planting and more. We encourage everyone to be extremely mindful placing garbage as organic because once the waste is contaminated with 1 non-organic item, everything becomes unable to turn into compost.
All Organic waste will be processed by Rumah Kompos, a facility for responsible waste management. They provide disaggregated waste transportation services as well as processing organic waste to turn into compost.
Coconuts: Coconuts are a must and beloved part of our festival and we're making a special bin for them! Why ? It takes a long process to turn coconuts into compost, so we separate it from Organic waste as they can be reused in endless ways.
All coconuts from BaliSpirit Festival will be repurposed by the organic and permaculture farm Yogi's Garden. Yogi's Garden will take all the coconut waste and will reuse it to hold unstable land to prevent it from landsliding, repurpose them for planting goals and possibly turn it into biocar in the future.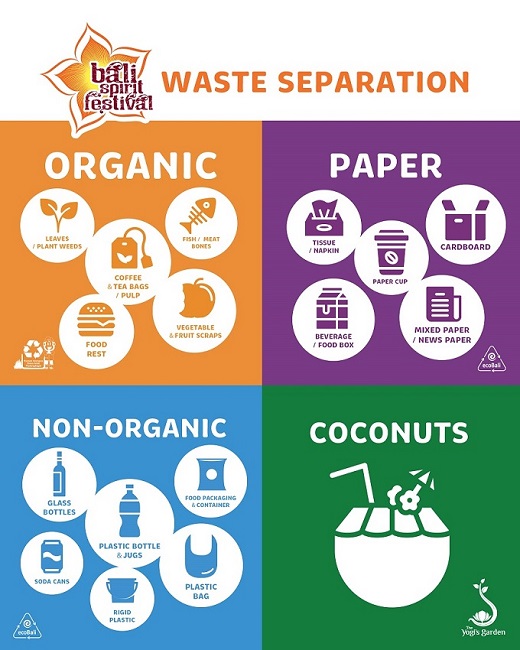 Non Organic bin for the other recyclables waste, such as glass, metal, cans and plastic. By separating non-organic waste we're able to minimize the garbage that ends up in landfill. Also, it helps us to make sure that as much as possible of it gets a new life by being recycled! Note: Please wrap broken glass properly with cloth or paper before putting it in the bin!
Paper Waste: For paper made items, such as Tissues/Napkins, Paper Cup, Cardboard, Beverage/Food Box, Mixed Paper/News Paper. We separate from all others to minimize its contamination with liquids and maximize the recycling.
Non-Organic & Paper Waste will be recycled or be disposed of on landfill responsibly by ecoBali. As a response to the waste management problems in Bali, they operate a sorting and material recovery facility ensuring that waste will not become a burden to Bali's environment. They guarantee the disposal of the remaining residue only in legal facilities.