Discover the Inner Cosmos with Carlos Romero
March 11, 2018
Carlos Romero is the kind of a yoga teacher who artfully curates every moment of the mind-body-spirit journey, leaving just enough space for silence. If you've practiced yoga in a place like Ubud before, you know the enchantment that happens when you are surrounded by the jungle. Paired with extraordinary music instruments and singing bowls, you're in for an unforgettable experience, especially when it comes to shavasana with live music in an open, ambient studio.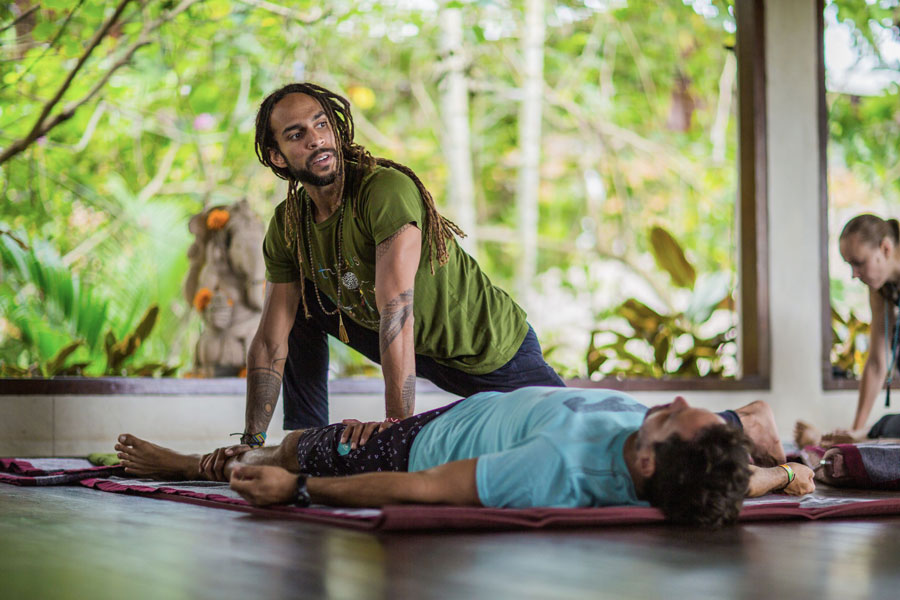 Yoga as Healing and a Connection to the Self
Carlos is known to take you on a journey into the sensations of your inner universe, dropping deeper into stillness and awareness, where you can experience your own uninterrupted rhythm and frequency. Do not be surprised to hear instruments from all around the world and feel an interactive connection with the teacher. You can laugh out loud, breathe deeply and exhale fully. The sound healing intervals offer a vibrational backdrop to his voice and a stimulating contrast so you can experience a trance like relaxation as well as follow verbal cues and tune in to the messages of the body. You can find your medicine within the natural progression of his classes, while opening up the energetic lines of the body and uncovering spaces through conscious breath and movement.
If you're coming in for a Yin Yoga class, it may feel like you are also getting the benefit of a restorative massage along with a calm and centered state of mind. The wisdom of the body and conscious movement brought Carlos to Thai Yoga massage. His fascination with the healing arts, connective tissues, working with the fascia, and the cellular intelligence of the body, inspired his quest to create a space where yogis can find their own meaningful connection to life force.
Carlos at BaliSpirit Festival
The same level of connection and safety can be experienced in his AcroYoga classes. If you're new to AcroYoga, come with an open mind and you will experience newfound awareness and lightness, while learning to be playful and mindful of your body in relationship to the space.
Every year at BaliSpirit Festival, Carlos leads AcroYoga with Bex Tyrer, together inspiring yogis to play. At BaliSpirit Festival this year, Carlos will bring his love for music, movement and an authentic expression though AcroYoga, Yin Yoga with sound healing and an immersive workshop on bodywork combining Thai Yoga massage, fascia and your body is your universe inspiration, which is in full alignment with the festival's theme: Return to Source.
About Carlos Romero
To return to his source, Carlos is catching the first morning rays at the ocean, while playing music on the sand, moving through a fluid yoga practice and savouring an amazing sunrise to revitalize and connect to the elements. Surfing is how he experiences his freedom and vitality. Originally from Venezuela, Carlos is a Surfyogis' devoted Yoga teacher, immersed in the journey of self-exploration over the last 15 years, including Ashtanga, Vinyasa, Jivamukti, Dharma Mittra Yoga, Anusara, Yin and Embodied Flow. As an E-RYT 500 instructor, he offers ongoing classes and workshops at The Yoga Barn, Ubud as well as immersions and retreats all within the bliss and beauty of Bali.
—
Contributing writer: Nailia Minnebaeva