The Transformative Power of Festivals Like the BaliSpirit Festival
January 16, 2020
January 2020 – only two months left until the BaliSpirit Festival and I can't wait to go there again! My memories of last year are still so vivid and I am really looking forward to this new edition, the first of this new decade …
Last year I travelled to Bali for the first time in my life and of course I grabbed the opportunity to join the festival by the horns. It was definitely an experience out of the ordinary which I will never forget.
In this article I now want to share some thoughts and insights about the transformative power of festivals like the BaliSpirit Festival.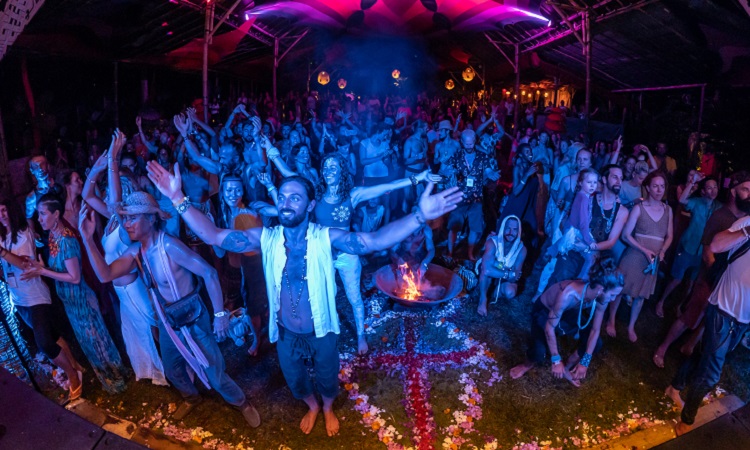 Why do I believe in the transformative power of such events?
I do so because one important step on my way to Bali was the first edition of the Portugal Spirit Festival. It took place in Cascais, close to Lisbon, in September 2018 and was the first European edition of the festival (and it will happen again this year, so make sure to buy your tickets in time!). Like its big sister, the BaliSpirit Festival, it was a place of connection and love, a safe space for all attendees, that sparked a lot of inspiration among all of us.
As many of the people who come to Bali, either traveling through or finding their new home here, I have recently changed some things in my life and am on a way to a life that I think, corresponds more to my dreams and to what my soul needs. Just to give you a quick overview: I have spent the last four years building and running an online shop, which actually went pretty well. I learned a lot and I think I can be very proud of what I've accomplished. I also liked the products and still do, but I felt more and more that this was not the life I want to live. So I stopped. I told my partners I wanted to get out and we agreed without any major complications. That was in August 2018.
I had something like a plan B in my head that involved concentrating on my side job – translator in the film sector, a job that I really enjoy and that I can do remotely. I love this job for many reasons. For one: it always makes me discover new topics and stories, which is great, as I love to learn new things and I love stories! Secondly, I love language and being creative with it. So I reached out to some old contacts and almost immediately found a new client to work for. That's what happens when you trust your guts: You close one door and open others.
But I did not only want to translate other people's stories, I also wanted to tell my own. And so the idea to my blog was born. And again: once the decision was made it all happened pretty fast. When it went online with a few first articles I felt naked and exposed, but also empowered: This was me speaking my truth and somehow following one of my dreams.
"She woke up one day and decided to set her life on fire; to go up in flames if necessary. To really live the life she was born to live."
– Lynn Bartle in "Burning Woman" by Lucy Pierce
Have the courage to be the beginner
Shortly after, I got invited to join the Portugal Spirit Festival as a media person and it is safe to say that this is when things started to really shift and shake.
So there I was, super excited and honoured, but also nervous and insecure. This was my very first public appearance as a blogger! And yet I was just a bloody beginner! But then I decided I would just be confident and believe in myself. I did it and introduced myself to everyone as a blogger from the first moment and guess what? It didn't feel strange at all. Instead, it gave me confidence and encouraged me to follow the path I was on. It gave me a boost that I can still feel today.
The festival promised yoga, dance, music, healing and in fact, it was a magical place of connection for all sorts of free spirits from all around the world.
People who come to such events are usually really open. They come with open minds and open hearts, they are eager to share, to exchange and to learn. People with dreams and visions, who are traveling and happily state they have no place to call their home, but rather a feeling. People who care more about a sense of purpose to their lives than about a fast car and a million in their bank account. These people are happy and radiate with energy because they love what they're doing, share their lives with people they love and live in places they love. Like Bali!
Some of those that I met were already living the life they want to, others, like me, had only begun to explore the possibilities. But in the end, we were all the same.
I came all by myself but didn't stay alone for long. When I left the festival a few days later I had not only participated in some of the most amazing yoga and breathwork classes, danced my ass off at the concerts and enjoyed a gong bath that felt as if I was melting inside (definitely something you should try if you get the chance, it is purely awesome!) … I had also gained half a dozen new friends that I am still in contact with today. When we met – over lunch under a tree, waiting for the class to begin or on the dancefloor – we didn't know each other. Yet the atmosphere was such that we opened up and connected immediately. We listened to each other and encouraged each other to follow our respective dreams. May it be a yoga teacher training in Thailand, starting or reactivating a blog, a change of career, travel plans … I have remained in contact with many of them and we have been following each other's paths from a distance. Some of them I met in Bali in 2019 and I hope that this will be the case this year, too, as I really look forward to meeting my friends again at the BaliSpirit Festival!
What you can expect at BaliSpirit Festival
The BaliSpirit Festival is really something to look forward to! Apart from the impressive program, which the BaliSpirit Festival will be offering again this year (check out the line-up here), this festival might magically let you see your life in a new light. Because in this environment you will experience yourself in a new way. You will be sweating, giving your best, you will be dancing, losing your mind, you will laugh, you might cry – I cried more than once and loved it – and you will meet all these different people with whom you will connect and share moments. You will learn about alternative lifestyles and you will begin to understand that everything you might be dreaming of, is actually possible if you really want it.
"This is one of the most frightening things in life: to realize that you can actually do everything you want. If you really want something, there is going to be a way."
– Christiane K.
Now I know that this might all sound a bit exaggerated or naive. Maybe you don't want to change anything and are happy with your life as it is. If this is the case I am genuinely happy for you and wish you all the best on your way! But if there is just a tiny voice inside of you that questions the status quo, if you have unrealized dreams and feel that there is more out there for you, then it is always good to broaden your horizon and open up for something new. Traveling sure helps. So does meeting and connecting with strangers. Listening to their stories. Leaving the famous comfort zone. All this will happen at the BaliSpirit Festival.
In the end, what you take home, goes far beyond the apparent changes like a toned body and some new skills on the mat. You will have made new friends and new ideas will buzz around in your head. All of this may at first lead to confusion, and it will probably take some time to settle, but in the end, you might gain a clearer vision of what life means to you.
Is it all love, peace, and harmony then?
Of course not. There might also be some moments during the festival in which you will not feel it. Being around so many highly euphoric people, as is the case at festivals can sometimes feel like a sensory overload. In such a cheerful surrounding, where everyone seems super happy, feels comfortable in their bodies and knows each other, you might at times feel particularly sad, lonely and overstrained, simply because you happen to be in a more quiet and introverted mode. If this is the case, just know that this is okay, too. It is important to embrace both the sunny and the not so funny sides of life.
Here are some hints on how you can embrace these moments and use them for your personal development:
Be gentle with yourself and relax into the situation. Don't feel stressed or annoyed with yourself because of what you feel.
Acknowledge and explore your limits. This will help you to learn how to set and communicate your boundaries.
Enter into contact with yourself and listen to your needs.
If you want quietude, go and seek it. Take a break, lay down somewhere in the shade and be with yourself. Maybe you'll stay alone, maybe you'll meet someone who feels just the same and you might connect on this very special level. Who knows?
Recharge your batteries and when you're ready for more input and celebration, go for it and enjoy every moment!
Frequent doubts and hindrances that line the path to your dreams
Maybe you have heard of the festival and read many articles and maybe you have been flirting with the idea to come many times before. But then you either "couldn't" get out of your job or it seemed like too much of an investment to book the expensive flight and go on this adventure. But now is the time to re-think: Isn't there a way to make it happen?
In my case, I made all the necessary changes to my lifestyle which now allows me to travel and be more free. I am grateful and also a little bit proud of myself, that I dared to take that step. Much of what we think is possible or impossible is actually a matter of our own thoughts and we hold the power to make them happen.

I made it happen by buying a one-way ticket – something I had never done before either –, organizing a subtenant for my flat and taking care of all things that needed to be taken care of. However, the closer the departure got, the louder my doubts became. This might happen to you too. All of a sudden it felt as if all my friends were pregnant or had babies, were buying apartments, settled down and nestled. I realized that I, too, wanted to arrive and that I was not all too eager on leaving for "the Unknown". But then one morning, while I was meditating, I understood: Staying home or in one place does not immediately mean that you have arrived, you can also arrive in a foreign land. Home is where you feel it. It's about your inner attitude, not about the place.
I think my doubts were the manifestation of some form of primal fear, some very primordial reluctance to change. Because yes, a trip like this is not the equivalent of a relaxed holiday. It will challenge you on many levels. But if this is your true calling and you feel the need to explore the world and yourself, then don't wait any longer, but get going!
What I look forward to at the BaliSpirit Festival
I really look forward to joining the festival and offering my heart, my soul, my body, my sweat, my breath, my enthusiasm … which also resonates a lot with this years' theme, but more about that in another place.
And of course, I look forward to seeing my friends from last year again, as well as to experiencing new classes in this very special powerful surrounding that is Bali.
And now to you!
What do you want to achieve on this planet and in your life? What is your mission? Do you already know it? Do you already follow your aspirations or are they still waiting to be awoken? Whatever your answers, I hope to see you on the mat or on the dancefloor at the BaliSpirit Festival and to connect with you!
Written by Noémie Causse. Noémie is a Berlin-based enthusiastic yogini, meditation adept and spiritual seeker. When she's not sweating on the mat or exploring her inner universe, she likes to ride her black bike, meet with friends, cook and eat healthy vegan dishes, dance, sing and travel. She is also a translator and copywriter and writes about her experiences with yoga and meditation on her blog www.spiritandthecity.online.