In Bali, the best way to get around is with your own transport, whether you drive a car, hire a driver or ride a bike. This gives you the flexibility to explore at your own pace and allows you to reach many places that are otherwise inaccessible.
Below we have presented you with a variety of ways to explore Bali and the different transportations that are available for those who visit our island.
MOTORBIKE OR SCOOTER
The best way to get explore Bali is on scooter or a motorcycle. Motorbike rental in Bali is relatively cheap however before you sign up for one, you had better make sure you're really skilled at riding a motorbike and have an international drivers license. With a motorbike, you'll be able to explore more of the island at your own pace and see sights that most tourists never get to experience.
Requirements for Renting Motorbikes & Scooters in Bali
Before you can rent a motorbike in Bali, you must be able to present a valid international drivers' permit that specifically covers motorbikes. If you don't have one, you can spend the morning at the Denpasar Police Office to get a temporary motorbike permit. The procedure involves a written test. The temporary permit is valid for three months after issue.
Helmets are compulsory for motorbike riders in Bali. Insurance, however, is not! Ask the rental agency about insurance, and if none is forthcoming, ask about their policy for damage. (More info on insurance here: Travel Insurance in Southeast Asia)
Motorcycle rental costs vary, and are often negotiable, depending on how long you want to rent the scooter for and the condition it is in. Per day costs are usually Rp. 40,000–60,000 Motorbikes tend to come with 100cc or 125cc engines. You don't need more than 200cc to go thrashing about Bali on two wheels; the roads (and the traffic) don't encourage speedy driving anyway!
BY GO-JEK
GO-JEK is a new service of "motorbike taxi" via a mobile app. You can select where you wish to be picked up, where you want to go and the app will automatically calculate the price and find you a driver. This is a very cheap and convenient method, as you don't need to be a motorbike driver yourself and still have the flexibility of getting around easily. A single ride costs only Rp.12,000 (up to 10km) or Rp. 15,000 (between 10km to 15km) and the driver will also bring a helmet for you! To learn more about GO-JEK and download the app: www.go-jek.com
TAXIS IN BALI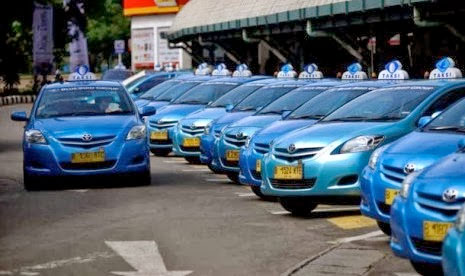 Metered taxis are common in South Bali and Denpasar (but not Ubud). They are essential for getting around Kuta and Seminyak, where you can easily flag one down. The usual rate for a taxi is 7,000Rp per kilometer, although the rate is higher in the evening. If you phone for a taxi, the minimum charge is 25,000Rp. Any driver that claims meter problems or who won't use it on request should be avoided.
By far the most reputable taxi agency is Bali Taxi (0361-701111; www.bluebirdgroup.com), which uses distinctive blue vehicles with the words 'Bluebird Group' over the windshield (watch out for fakes). Drivers speak reasonable English, they won't offer you illicit opportunities and use their meter at all times. There's even a number to call with complaints (0361-701621). Many ex-pats will use no other firm and the drivers are often fascinating conversationalists.
Please note that Airport taxi rates are fixed depending on your destination, and are non negotiable. Airport taxi's are available 24 hours however if you are arriving after 10pm, we recommend that you pre-arrange a driver with your hotel or guesthouse.
BY PRIVATE CAR & DRIVER
The best way of seeing the sights of Bali is by hiring a car and a driver. It gives you the freedom to explore the backwater of this picturesque country. Plenty of car-hire agencies on Bali offer day services or weekly rentals; your hotel or villa may have its own cars and drivers available for you as well. Having a driver takes away the stress of having to navigate the small roads around the island; they can also help with any translations as once you leave the main areas very few people speak any English.
Drivers on overnight stays will find their own suitable accommodation at very little cost to you. You will be expected to pay the driver's food and accommodation but the cost of the vehicle, insurance, and petrol should be included in the price. Expect to pay about Rp. 450,000-750,000 a day, open to negotiation.
Before hiring a car and driver make sure that they have all the relevant paperwork and insurance in place and agree on all costs ahead of the rental period. Also make sure that they have a good command of English and are knowledgeable about the island.
BY RENTAL CAR
To rent a car you are supposed to have both an international driving license, together with your own regular driving license. Or you can obtain a temporary tourist drivers license from the police station in Denpasar within a day. Most rental companies however will rent you a car with just a copy of your home national driver's license.
Before you drive away in your car, ensure that the car has all its registration documentation (Surat Tanda Nomor Kendaraan Bermotor or STNK, vehicle registration certificate) and copies of any insurance policies. You must be vigilant at all times when driving in Bali. The Balinese rarely stop to check for on-coming traffic, which can often cause the driver to slam on their breaks or swerve to avoid a collision. At night, many motorcycles and cyclists rarely have lights on and street lighting is limited. Traffic lights are not always observed. Accidents are common. Vehicles are left-hand drive. The national speed limit is 70kph but you won't find many areas to do this.
Expect to pay between US$18 to US$45 a day for vehicle hire, though the bigger agencies will charge a lot more. Prices will either be in rupiah or U.S. dollars. The cheapest form of transport is a Suzuki Jeep, which should cost about US$20 a day; a Toyota Kijang should cost about US$25 a day; a top of the range limousine-style Suzuki costs US$50. These prices should include some insurance but always check what insurance you are getting before agreeing to a price.
TOURIST SHUTTLE BUSES IN BALI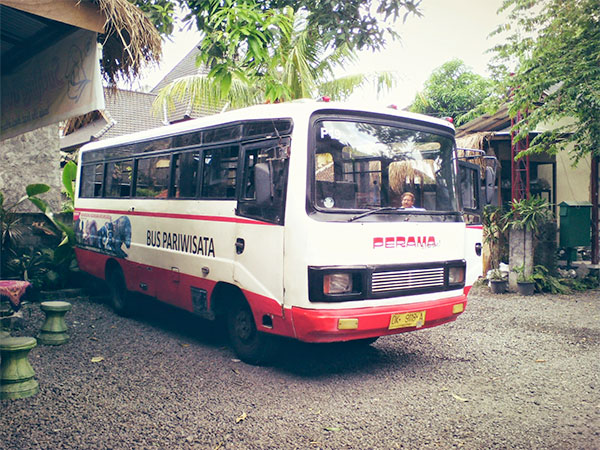 Tourist shuttle bus services allow tourists to travel from point to point with the least amount of expense and hassle. Perama Shuttle is one of the most established on the island, with bus and ferry services that reach across Bali from Kuta to Ubud, to the North and East and beyond.
For information of how to get to BaliSpirit Festivals Day and Night time venue, check our venue page.