Ecstatic Dance and Transformational Movement – Meet Layla El Khadri
October 10, 2017
Ecstatic dance is not your typical 'dance'. You are not being led by an instructor, partnering up or under the influence in any way to relax and loosen up. Instead, your shoes, phones and egos are left at the door as you enter the dance space. An ecstatic dance host facilitates the floor, sets intentions and perhaps a theme and then the music begins, and you enter into a meditative, free movement vortex, spiraling into full expression and liberation.
There are few rules, and these are general guidelines which are universal for ecstatic dance events around the world:
Honor the space by not talking.
Embrace the dance space as sacred and safe.
Enjoy the journey. (If you can get out of your head about dancing and into your heart with your movement, you will have an amazing experience)
Ecstatic dance has taken off as a shared movement phenomenon that creates communities as much as it unites them. It is one of the most loved and liberating experiences at BaliSpirit Festival. In this article, we will explore why it's so popular, how it connects to consciousness and spirituality, and offer insights from Layla El Khadri, BaliSpirit Festival presenter and transformational movement teacher about what dance means to her.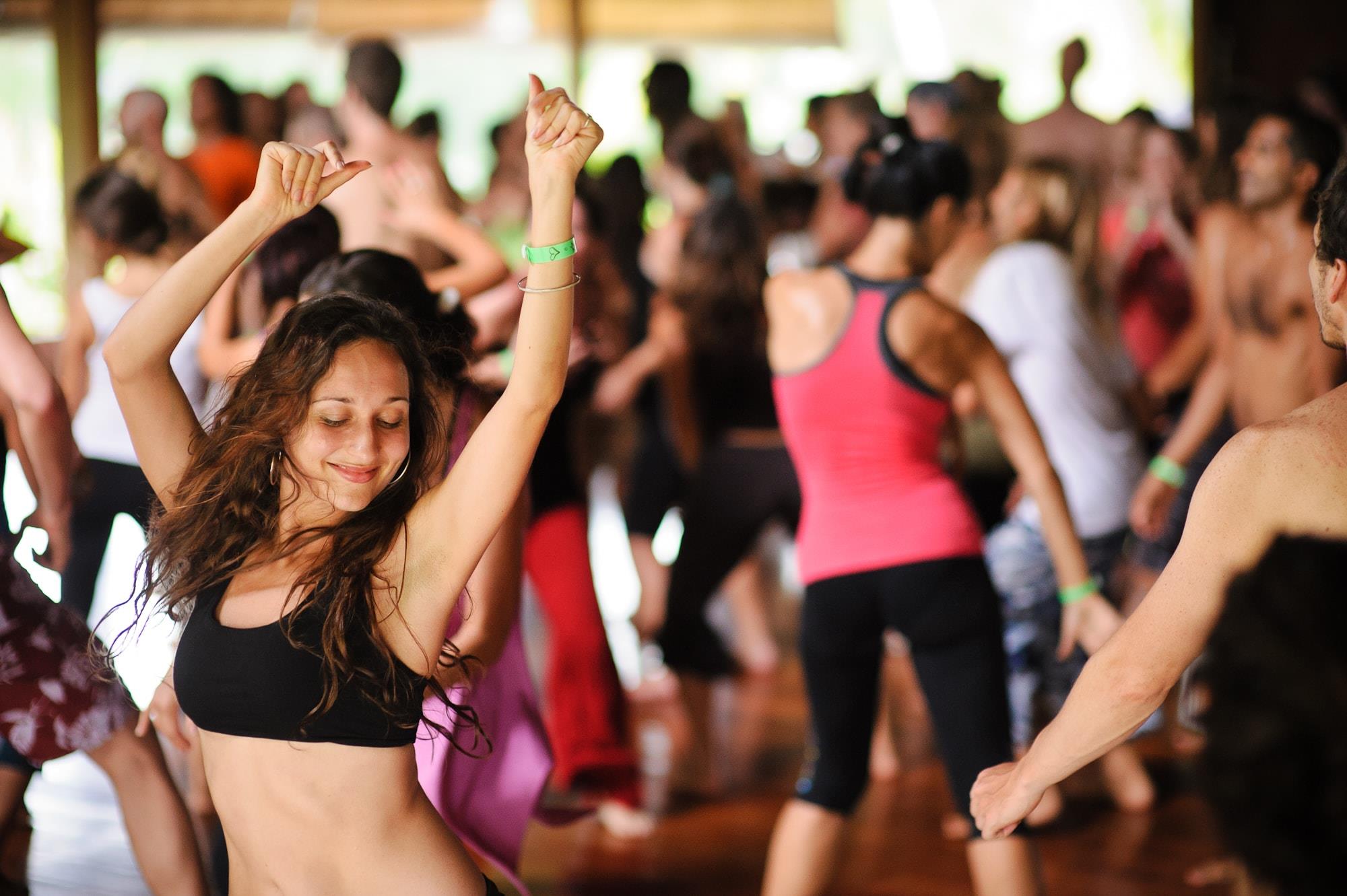 WHAT HAPPENS IN ECSTATIC DANCE?
Ecstatic dance invites people from all ages, backgrounds and experience to drop their inhibitions, open up and let loose. The dance floor becomes a total freedom of expression. Many people don't dance outside of a nightclub or without the courage of alcohol, so ecstatic dance can be a little nerve racking at the beginning for first timers. Music starts slow and gets louder and faster, the energy in the room rises and whirls as people begin to move with loud stomping, primal movements, allowing the music and healing energy to enter their bodies. By consciously moving, ecstatic dance allows people to move through and release the fires that burn within them to emerge cleansed and uplifted through the power of music and dance.
It is a surprisingly strenuous workout, you will jump, twirl, shake and sweat… buckets, all to lively world rhythm beats. Ecstatic by name and ecstatic by nature, feel-good endorphins kick in with the music, so be prepared for smiles, crazy movements, shrieks and hugs from a community of conscious dancers to rise up in this ecstasy into an almost trance like, meditative state. Usually after this high point, music gently slows down into a peaceful sound meditation.
THE PHYSICAL AND MENTAL BENEFITS OF DANCE
Communal dance rituals have been practiced since time immemorial. Ecstatic dance is a fairly new phenomenon in the world of yoga and consciousness and continues to grow in popularity in Ubud, Bali and the world. It is an incredibly liberating and community-building experience where the focus is on the people, moving together and releasing to unite all dancers together in a tribe-like bond. People separate themselves from the mind and focus completely on the music and movements, rather than analyzing how they look or wondering if others are judging them.
'Psychotherapeutic' dance therapy is actually a growing prescription from Western doctors to patients with mental health problems. Doctors are recognizing the enormous benefits of dance and free-form expression and its effects on raising serotonin levels which can increase self-esteem and body image and can build cardiovascular strength and endurance, whilst reducing depression and anxiety.
MEET LAYLA EL KHADRI
Layla El Khadri is a dancer, life coach and empowerment mentor. She leads dance workshops that allow people to experience the transformational power in art, using dance to connect and reveal the magnificence we all carry.
Has dance helped you overcome any obstacles in your life?
Layla: Yes! Dance has awakened parts of myself that were completely numb and revealed talents that I didn't know I had. Dance has allowed me to stretch the limits of my capabilities not only physically, but also emotionally, mentally and spiritually. I have discovered new, fascinating ways of connecting with my source and the divine through dance and ecstatic stages, it is on the dance floor I have had the most amazing realizations.
What type of dance do you teach?
Layla: I teach something I call Transformational Dance. Using different styles and techniques acquired during years of study I guide a journey through the body into the emotions and the inner landscapes. We shake up the physical structure to let go of the old programming and to insert new codes into our systems. Finally, we dance to activate these codes and become an embodiment of our own potential.
How does transformational dance work?
Layla: The way I work with dance allows people to experience reality through their bodies. The dance helps us tune back into our bodies and ignite our awareness. From here, the creative flow of dance carries the authentic expression of each person and helps realize and shift patterns in a very deep level with mind-blowing effects.
How does Bali inspire you?
Layla: I came to Bali over 2 years ago to study and the island has deeply touched my heart. Mamma Bali has been gently and firmly guiding my path, with nurturing beauty and people, she has truly inspired me with my creation. Bali is a very special place, and if you hear the call I humbly recommend you to listen. If you open your senses, Bali will give you the gift of experiencing life like you have never done before! At BaliSpirit Festival the entire tribe comes together to this side of the world once a year and amazing projects and creations are born from this. The energy of the people in this island brings us all together in a big family and the Tri Hita Karana spirit creates a sense of community and home.
In addition to the already high vibe and unifying community that is molded together, ecstatic dance is usually one of the real energetic highs at BaliSpirit Festival. Music and movement have the power to fill and express what words cannot. Ecstatic dance connects people to themselves and each other without the distraction of speech or alcohol, but solely eye contact and free flowing movement. It is a truly unusual and liberating spiritual dance experience where people are encouraged to bypass the thinking mind completely – working with the body for healing and spiritual connection, where people move with how they feel, rather than how they look.
Experience it for yourself!
—
Written by: Maeve Nelligan