Maculele: Sticks, Dance,Fight
March 23, 2014
Even though I have just spent one month in Brazil, its only here at the Balispirit Festival that I have first seen the Brazilian dance called the Maculele.
There are a few different stories about the origins of the Maculele, one of which is that during the 350 years of slavery in Brazil, the slaves in the sugarcane plantations would gather and play Maculelê as a game to vent their anger and frustration from being slaves. At this time, machetes were used instead of sticks.
Today, or at least here at the Balispirit Festival, the Maculele looked like less of a fight and more of a choreographed dance, with enough fire to inspire even us beginners the creativity to explore the potential and conversation between the internal and external music of instruments and heart.
In Mestre Bira's third class of the festival we gathered together brandishing sticks as long as our forearms and a couple of inches thick. The sticks, called grimas, are more than just a tool for combat but more specifically an instrument of rhythm and an incredible way to move with a partner, following the beats of the atabaque. Mestre Bira taught us the basic steps which is that on the first three beats we were to move backwards and forwards, right leg fixed and then on the fourth beat to strike our partners grima. As the class progressed and we became more comfortable with the sway of the beat and were entrusted with more moves to brandish with our sticks. One such move required the skill and fortitude to drop the knees alternatively to the ground before stepping back up again without missing a beat. Another was to simply turn around to then once again come stick to stick – on time. It required both focus and creativity and before long we all found ourselves two by two in the centre of the Roda, sticks and smiles flying.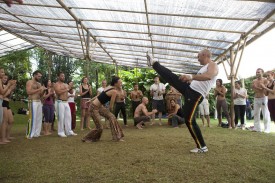 We finished the workshop with Samba de Hoda with once again, the superstar eight year old boy pushing out the muscle bound teachers to show off his dancing skills and of course impress all of the ladies.
In love with this Art.
Written by : Bex Tyrer