Once Upon a Time at BaliSpirit Festival
March 19, 2018
Story shared by Nailia Minnebaeva
I remember the excitement of booking my ticket to Bali for the first time. I arrived with the intention to work on my online startup and experience BaliSpirit Festival. Three years later, I look back on this trip with a humble smile, because I once thought it is just a festival, yet it was an invitation to my Soul.
During this personal quest, I was committed only to my dream and it was everything I was hoping it would be. And dare I say, living in Ubud, Bali is so much more beautiful than depicted in the movie and book, Eat Pray Love.
The mysterious way of life on this magical island seems to unfold in slow motion. From the first day, I felt enchanted and immersed in this exquisite flow of life with rituals, connection and unique experiences which felt deeply restorative. And with all the wild beauty and holly spring water on this island, I was going for water blessings and flower baths, visiting wild nature temples, and swimming in the waterfalls.
Although my intention was to spend my time in the co-working space, I just wanted to discover all the hidden streets, learn a new path, and do another workshop or yoga class. Driving my motorbike through the scenic roads with the rice paddies, learning to make offerings, and exchanging smiles with perfect strangers along the way, have become my daily rituals.
My days in Bali were filled with a newfound sense of harmony and adventure. I found myself unlearning the ways of being in an urban city, and embracing new ways and vibrant patterns which govern this community.

Bali inspired me to slow down and live each day from a place of wonder, anticipating another serendipity unfolding just around the corner.
It is a harmonious rhythm where all things fall in order, and if you pay attention, it will show you how to move gracefully and mindfully, and how to belong. With this observation, I learned to trust my environment.
This is how I summoned the courage to ride a motorbike, which seemed like a real challenge. My Balinese teacher said to me before it was my turn to drive, "We share the streets. Watch the road and follow, just like fish in water. Just go slow, keep your feet on the ground when you need to, and you will be safe. "
Indeed I felt like a fish in the water again, and I even considered becoming an expat because somehow my free spirit felt at home in Ubud. I danced with tears of joy at the ecstatic dance, collected friends like treasures, and discovered places like The Yoga Barn and Green School.
I remember thinking to myself, "This is a way of the future! We are meant to live like this – in community and harmony with nature… And for sure, I get to do what I love. Why else am I here?" Then a surge of clarity hit me. As if this impulse reignited a creative fire in my belly. And just like a child again, I felt the boldness to create and freedom to express my joy and passion. This is how I believe Bali has initiated me into my own inspired and authentic life.
The event that truly sealed my newfound purpose and appreciation for life, was the heart-opening rendezvous with my Muse at the BaliSpirit Festival.
I've been to music, yoga and art festivals in the other beautiful parts of the world, but this is something else! It is a celebration and merging with Life and Spirit. It is the manifestation of the Creative Principle of the Universe all in one village of Ubud, that you can taste, feel, touch and savor every moment of it with people who are also committed to the same level of presence.
From a sacred ceremony to a sound healing circle after an amazing yoga class, each live performance and group experience calls on the Spirit to express, resonate, and feel connection, joy and belonging.
During the six days and seven nights of the BaliSpirit Festival, it felt as if there is no part of the body and soul that was left untouched. It is an inspiring and deeply moving journey from the beginning to the end because of the depth of talent, skill, collaboration and the purity of intention. I still remember how alive I felt and present in my skin during breathwork, breathing with hundreds of people, as well as my first mandala sound healing circle, improvising with other musicians where I've rediscovered my voice and passion for music.
There is nothing like the pure ecstasy of celebration that will find you on the dance floor right under the stars after a soul-ravishing cacao ceremony.
Entering the festival ground at night felt like going into a Wonderland, where every stage and corner of the festival is a work of art, buzzing with life and magic. All the bands, musicians and world-renowned teachers have come all around the world to co-create the Bali Spirit experience.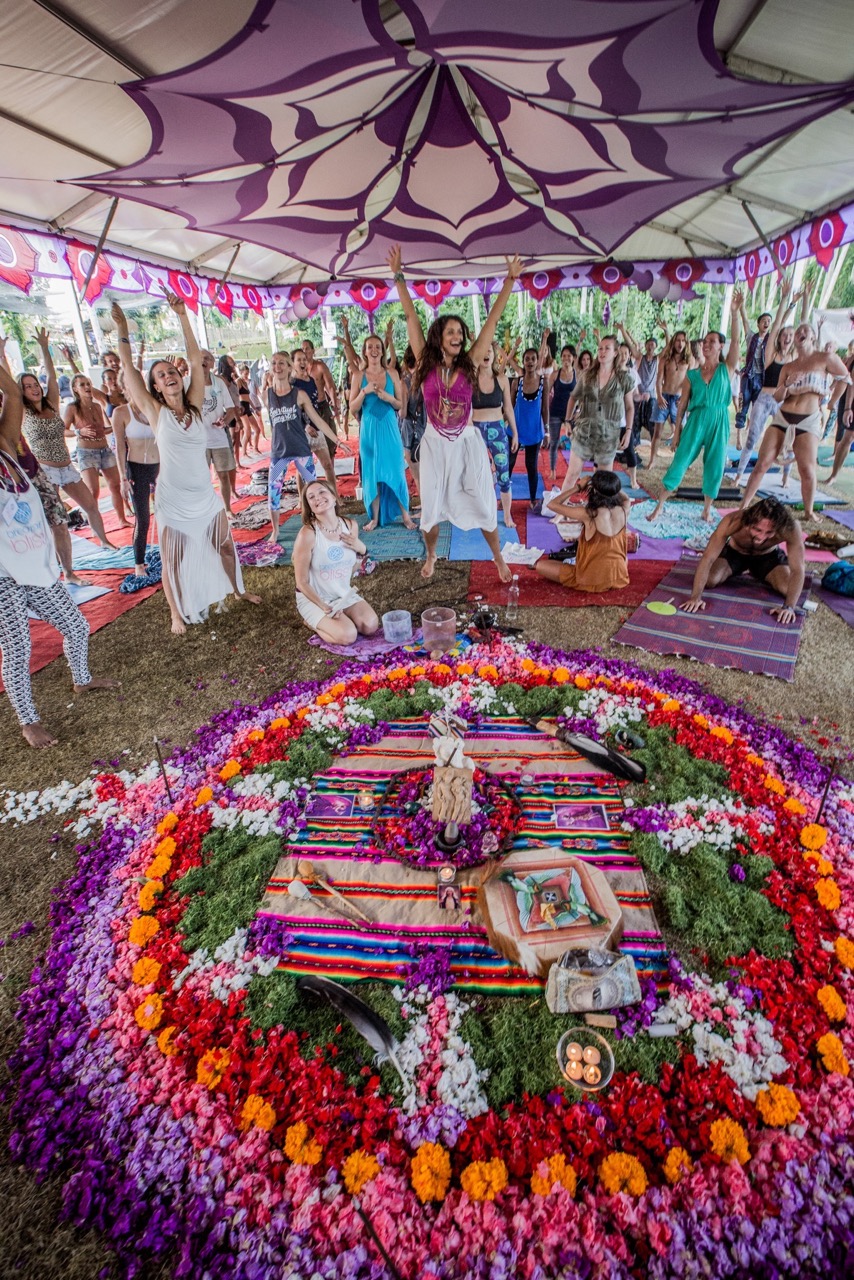 It is amazing to consider how many individuals this festival has brought together for the past eleven years, who are all passing through this eclectic village, and leaving an offering of themselves, leading change, and making footprints through art, sound, inspiration and healing. You cannot possibly be a part of this creative energy – a mystical vortex – and remain the same.
I owe it to Bali Spirit Festival for all the beauty, insights and deep revelations I have gained, as well as the priceless connection with people. These friendships are priceless, because to this day we give each other the gift of connection and support throughout the year, for days when we are not living life at the festival, and you could really use some good laughs.
BaliSpirit Festival was my tipping point, the experience that inspired me to trust the power of dreams. When I need to regain my passion and strength, I surround myself with beauty, talent and wisdom, and this is how I find my way and return to Source, to Mama Bali, and this beloved festival.